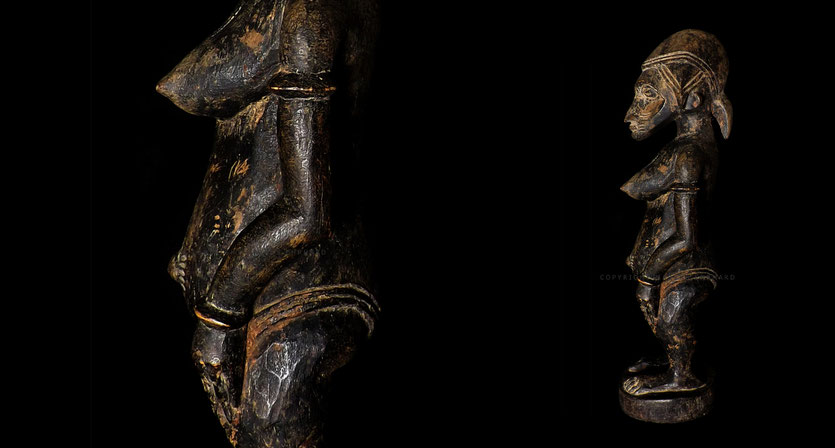 In former blog articles I already said, that dirt is not patina. Patina are surfaces on an object that changes during the process of making and over the years of aging. These surfaces are set together by colour and colour fading, structures and textures, traces of treatments (like sacrifications or the black stain treatment) or by traces of usage like wear, abrasions and even damages.
There are many misunderstandings when it is about patina on Senufo sculptures. Very often I hear the information about a mask or statue, that the object got sacrified with blood from a goat or chicken. This is wrong. It is right that the Senufo do sacrifications, but not directly on a sculpture. There is only one exception at the Senufo sub group of the Wanebele called kapaquatianh, carved fetish heads that receive a cover with animal blood.
Very typicial and sign for an authentic Senufo mask or statue, is the so-called black stain treatment. Beside the facts, that this handling protects the object from insects infestation and makes the wood durable against moist and usage, the black stain treatment is part of a ritual act. The treatment gives an object spiritual power.
The Senufo carvers from the Koulé and the Fono, and also the Sando diviners, treat wooden objects with this multistage treatment: After a statue or a mask is carved and sanded, the objects receive a coat of the juice from the roots of the red root plant, also known as mallow plant (lat.: malvaceae). Then the covered object is getting packed with a ferrous clay. After dried in the sun, the clay is getting wahsed off. The containing iron caused an oxidation of the red wood juice and the surface will become black. This dark layer can be chunky and crusty, but also be like a varnish smooth and glossy coating.
Sidekick Information: On old objects the wood shines orange on scuffed corners and edges. The wood on recents objects appears white throught this covering.
The Tugubele women made by Sabariko Koné (+1949) from Ouézomon after 1930 on the top image has an excellent fine black coating caused by the described stain treatment. The image below shows a Kpelié mask carved by Fossoungo Dagnogo from Kalaha around 1940. The black stain treatment does show a black coating, some parts shine like a thin varnish other parts are scoured by usage.
In case the black coating peels off after years of usage, sometimes the sculptures will get colored with paint to receive new spiritual power. Rarely but it can also be the case, that an object is getting washed and sanded to take away the power. But careful, mostly the object should look used to achieve a better price and we talk about manipulation.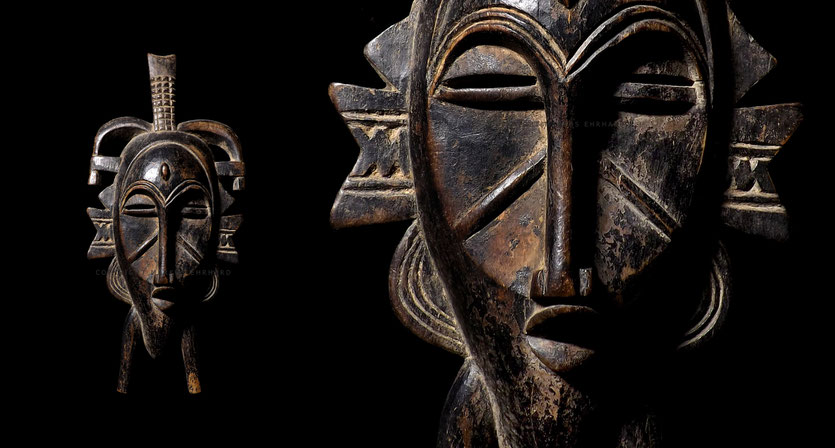 Top image:
Tugubele woman, carved by  Sabariko Koné,  Koulé from Ouézomon. Woman: 24,0 x 6,5 x 6,0 cm, wood. Collected by Dramani Kolo-Zié Coulibaly 2016 in Boundiali, belonged to the Tugubele convult of a  Sando diviner in Ndara. 
Literature:
- Wenn Urform Form bestimmt, Markus Ehrhard, pages 20 - 23, 122 - 125.
- Kunst und Religion bei den Gbato-Senufo, Elfenbeinküste, Karl-Heinz Krieg und Wulf Lohse, pages 29 - 30.
- Afrika Begegnung, aus der Sammlung Artur und Heidrun Elmer, pages 28 - 29.
- Aus Afrika, Ahnen - Geister - Götter, Jürgen Zwernemann, Wulf Lohse, pages 68 - 69.
- Kunst & Kontext, Ausgabe 4 2012, Dr. Andreas Schlothauer, pages 4 - 10.
Below image:
Kpelié mask, carved by Fossoungo Dagnogo, Fono from Kalaha. *1894 +1973. Time of creation around 1940. 29,5x 14,0 x 6,0 cm, wood. Collected by Karl-Heinz Krieg. 
Literature:
- Wenn Brauch Gebrauch beeinflusst, Markus Ehrhard, page 92 - 93. 
Content and images by Markus Ehrhard