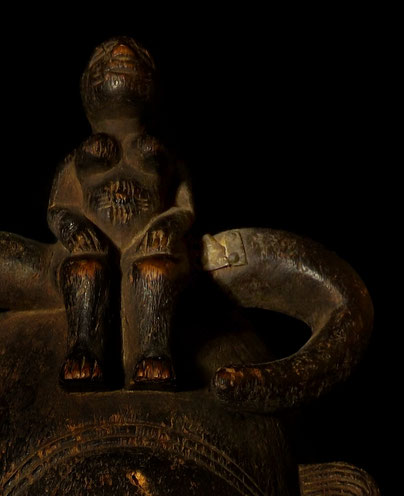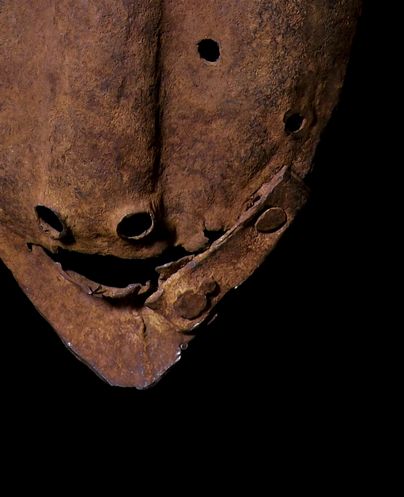 There are certain signs and indicators, that an African sculpture is used in the tribe. Traces of usage and, determined by the treatment, diverse kinds of patina are to mention. Depending on the filigree character and making of a sculpture damages of limbs and fragile elements can also be a sign for authenticity. Even when some major parts of an object might be injured or are even lost.
In the tribal use a damaged object often, not always, is not of value anymore, because it might have lost its spiritual power. In case of the Kpelié mask from the Senufo, a chipped mask with missing elements is decribed as the "ugly" mask and gets scoffed while dancing (from: Kunst und Religion bei den Gbato-Senufo, Elfenbeinküste, Karl-Heinz Krieg und Wulf Lohse, page 68).
Important objects, that have damages receive a repair or patching on spot. It can be case that a mask is used over years and receives a correction later on. Or, that there are corrections in the process of making, when there are misshapps in carving or casting. It is not easy to identify these reparations. It is of importance, that this reparation took place right on the local spot, that is why this kind of repair is called "African patching" ("Afrikanische Reparatur").
The right horn broke off the above shown Kpelié mask from the region of Dickodougou (left image). In ritus this mask would have lost all its spiritual power. So, because of certain importance of that mask, the horn got repaired with a cuff made of a brass sheet. 
In the casting process of the iron Dogon mask (right image), the metall did not merge at the part of the mouth and left sharp edges. An additional clasp of the same material did repair the object.
Sidekick information:  There are some dealers who tell you, that chipps and cracks on a sculpture are signs of usage and indicator of an authentic piece.  Even damages can be faked and deliberately caused. So that argument is totaly baloney. But more worse: Try to sell for example a damaged Kpelié mask with a missing decoration element as a collector. I guarantee, that no one, believe me, NO ONE will ever buy your injured object, because it has no value.
Images and text by: Markus Ehrhard 
---
Kpelié mask, region of Dickodougou.
29,0 x 15,5 x 9,0 cm, wood, African patching at the right horn. 
Literature:
- Wenn Neuordnung Ordnung schafft, Markus Ehrhard, pages 140 - 141.
- Kunst und Religion bei den Gbato-Senufo, Elfenbeinküste, Karl-Heinz Krieg und Wulf Lohse, page 68. 
---
Dogon mask.
28,0 x 18,5 x 6,0 cm, iron, African patching with iron clasp at the mouth.
Literature:
- Wenn Brauch Gebrauch beeinflusst, Markus Ehrhard, pages 40 - 41, 200 - 201. 
---