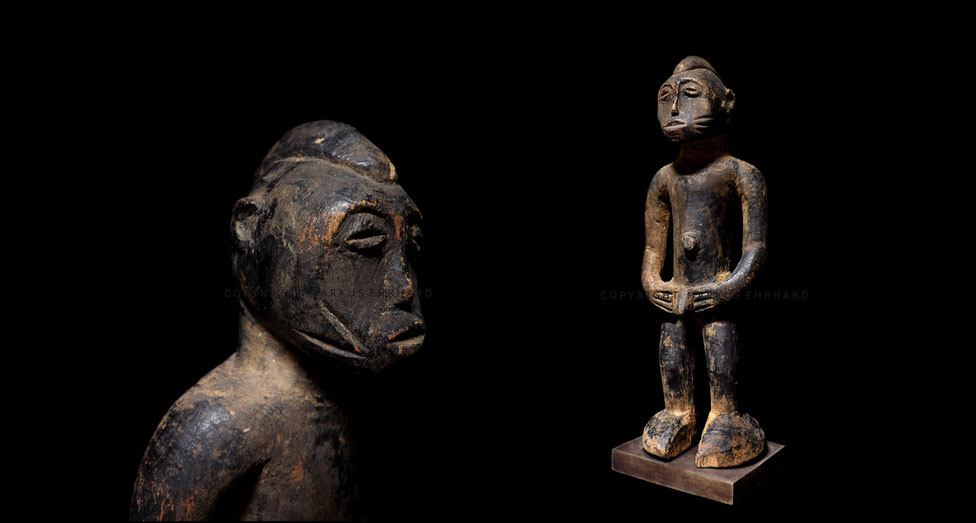 Sometimes wooden objects are covered by something, you dont know what it is....and you probably don't want to know (in a following article I will talk about the yoghurt-masks, that don't make your face younger, quite contrary, these objects should conjure wrinkles on your forehead).
But how to find out the difference between dirt and patina?
Karl-Heinz Krieg once told me just to wash an object with water. Usage, storing or transport can cover a mask or statue with a layer of dust. On Senufo sculptures, some parts might be leftovers from the black lye process, when the object got covered with ferrous clay. In case of Kpelié masks you have to bare in mind, that they got treated with the black lye as well as the Senufo statues. But these masks are protected by storing in a shrine wrapped in tissues, sometimes for decades. Beeing sceptical, but it is certainly possible to have a mask that is dated around 1930 that looks like made a year ago. But also there are masks made a year ago that look like a plate of Play Doh (in German we say "sieht aus wie ein Teller Knet").
As far as I know, Senufo objects never get sacrified with blood or any other liquids from human or animal orifices. My cooperator Souleymane Arachi in Korhogo told me in an interview for my book Wenn Neuordnung Ordnung schafft on page 56, that there are only wooden heads of the Wanebele (sub-group of the Senufo) known, which got sacrified. These exceptional fetishes are called "kapaquatianh". But I never saw this kind of object myself.
Sidekick information: Sometimes you find circular snow white spots that fade on the edge on a wooden object. They have a diameter of about 2 cm. These spots are simply and delightful to remove with a cloth...next best thing to do is to burn this cloth immediately, because you just removed a nasty spider nest. In case you don't collect insects or wont find any creepy-crawly surprises, place your wooden object, as long as it is not too big, in the microwave for three minutes.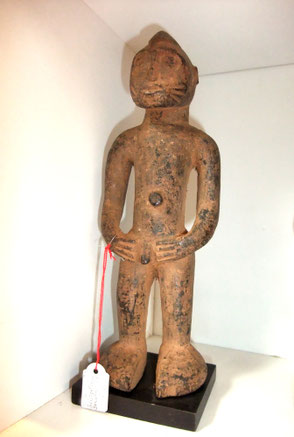 The statue to the left and above is a single male Tugubele  that was covered with dirt, spiderwebs and something like clay. I bought that powerful man from Karl-Heinz Krieg, who dated the statue around 1940. He gave me the advice to wash the object gently with water. No sooner said than done! The result was impressive, everyhting nasty dissolved and the patina from the black lye treatment emerged. The typical reddish/orange colour of an old wood shines throught at the chipped edges. That was a positive experience where I found out, that dirt is not patina.
---
---