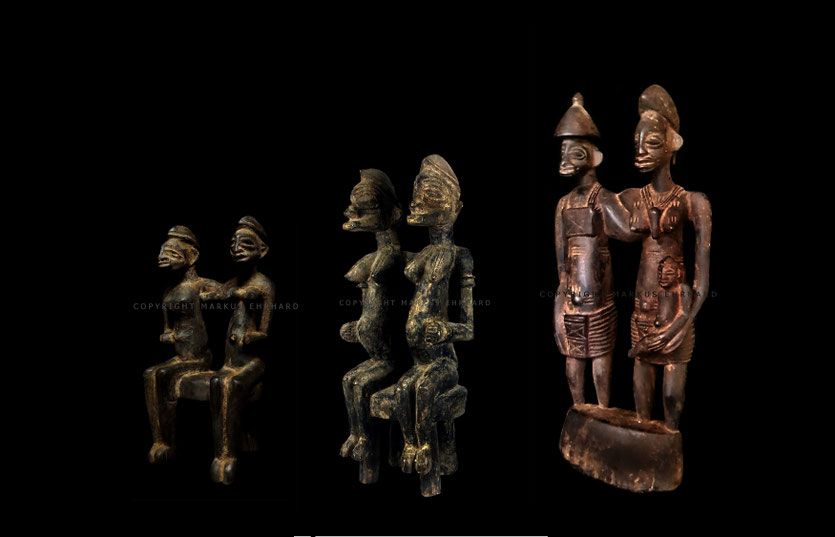 In Sando-cult of the Senufo, there is a number of certain statues used by the diviner. They all are Tugubele spirits with different purposes. In general the diviner works with a Tugubele couple, a seperate woman, which is usually a bit higher than the single male statue. Both represent the Tugubele spirits. These couples have an average size of 20 cm to 30 cm. Smaller couples, from 10 cm to 20 cm are mainly given to the person who consulted the diviner, they are called Nyingife.
But the diviner works with a slightly different statue too, the Tougou N'Gambele. Characteristic for this type is a couple that is fixed on a unit base or sits together or a stool or small bench. Both figures are carved symmentric with crossed arms on their back. The Tougou N'Gambele can represent the two Tugubele spirits, like the couples with two separate figures, but it can also be a representation for the corporation between the diviner and his connected Tugubele spirit (source: Afrika Begegnung, Artur und Heidrun Elmer, page 40).
So there are variations of the Tougou N'Gambele. You will find a male and female couple, but also male and male or female and female couples. Like with the double faced Kpelié mask, which is often wrongly explained with bisexuality, there are the same misunderstandings in literature with these spiritually connected couples, when both spirits show the same gender. It is not homosexuality that is represented. It can be the case, that a male diviner is connected to a male Tugubele spirit, or that a female diviner is connected to a female Tugubele spirit. So all these variations of unities do offer a lot of space for interpretation.
When asking a carver, there is always an individual story to this certain genre of Senufo statues. Indiviual are also the sizes of the Tougou N'Gambele. They vary from about 15 cm up to 40 cm.
The bottomline and the intension of these figures is, that a united connection is presented. Following three diverse variations of the Tougou N'Gambele, which all show the unity of a spiritual connection.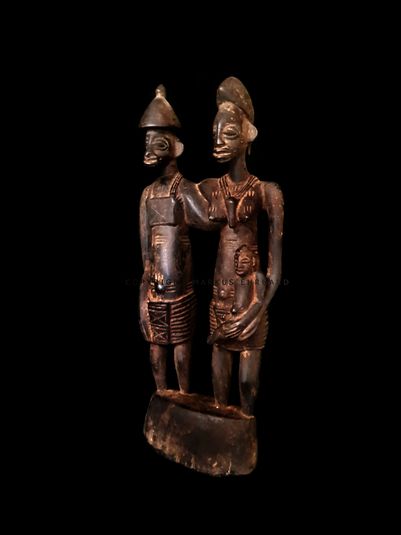 With 37 cm this Tougou N'Gambele is a large representation the Tugubele spirits itself shown as a family. Like with the common Tugubele couples, where a male and a female spirit is represented in an own figure, this couple represent both Tugubele spirits.
Tchètin Bêh Konaté, a Koulé, did carve this Tougou N'Gambele with the traditional pearl belt around their hips, the symbol for the Cafouhôconri, a new level of initiation.
From the front, the crossed arms do look bulky and not natural. Watching the back, the solution of the crossed arms that focus the connection are solved elegant.
The patina with the black stain treatment is superbe on this carving, which was collected in the area of Boundiali.
---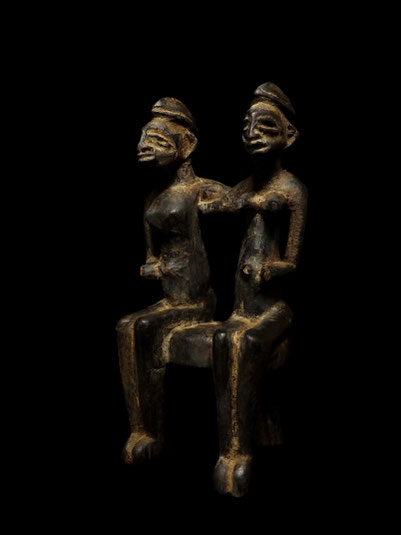 This 17,5 cm small Tougou N'Gambele is carved by Yalourga Soro, a Koulé from Ganaoni. Here you see male and female figure. This constellation can show a Tugubele man and a Tugubele woman. Or a male diviner with his female Tugubele spirit, respectively the female diviner and her male Tugubele spirit.
Yalourga was a very precise carver in the double faced Kpelié in carving two identical face. In case of his statues, it is obvious that he had problems in carving the same face twice. They are always very different.
---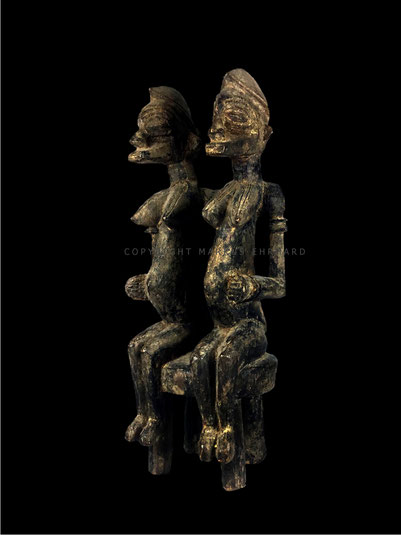 There are no terms or words, nor importance or meaning of homo- or bisexuality in Senufo culture.
The Tougou N'Gambele statue from the family of Koukouho Coulibaly, from the area of Kouto, does show two women. One does represent the Sando diviner and the other the connected Tugubele spirit.
From top:
Tougou N'Gambele, carved by Tchètin Bêh Konaté, born 1920, died 1996 in Zanguinasso. Carved around 1960 or earlier.
37,0 x 15,5 x 6,5 cm, wood.
Literature:
Not published yet.
Tougou N'Gambele, carved by Yalourga Soro, Ganaoni.
17,5 x 7,5 x 6,0 cm, wood.
Literature:
Not published yet.
Tougou N'Gambele, carved by  Koukouho Coulibaly (or family?), Koulé from Kouto.
25,5 x 10,0 x 9,5 cm, wood.
Literature:
- Wenn Neuordnung Ordnung schafft, Markus Ehrhard, pages 108 - 111.
- Kunst und Religion bei den Gbato-Senufo, Elfenbeinküste, Karl-Heinz Krieg und Wulf Lohse, page 34.
- Afrika Begegnung, aus der Sammlung Artur und Heidrun Elmer, page 39 and 41.
Content and images by Markus Ehrhard