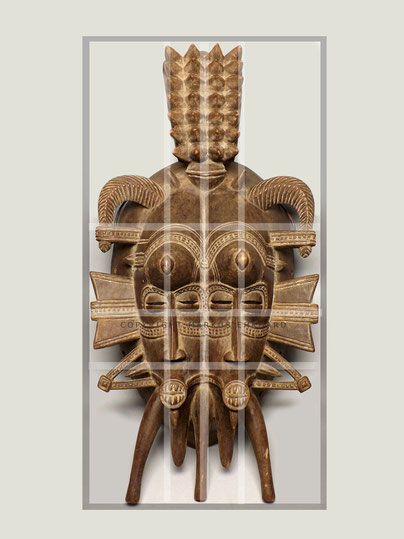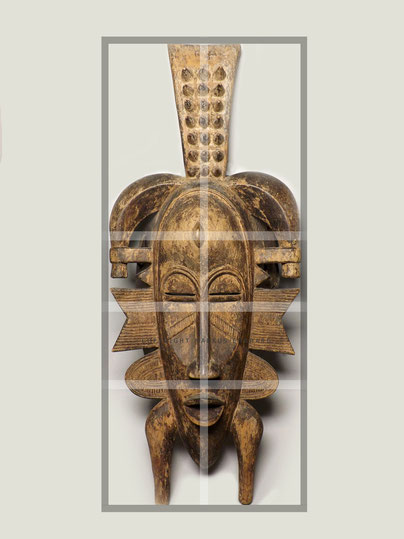 Please let me tell you right away, that this is not an article, where I try you tell/sell you, how to apply the Golden Ratio in an African sculpture. The Senufo carvers do not excercize these rules in their objects. In retrospect, depending on the size, the Golden Ratio application surely works on almost everything that we conceive as beautiful. You see what you want to see. The following consideration is different, much simpler...and, trust me, even more impressive.
Certain times I explained the purpose that the Kpelié mask is to entertain the audience. And a beautiful, elegant and perfectly carved Kpelié arouses admiration. Everyone loves symmetry.
Keeping in mind, that the shown masks are hand made with simple tools, it is very impressing, how delicate and filigree these objects are carved by a masters hand. For their size, they are incredibly light in weight. The hollow in the back is very deep and the body of the mask is extremely thin. A closer look reveals a stunning accurate and precise symmetry. Both sides are perfectly mirrored. Every detail is in line and in the exact way on both sides of the mask.
After I received the first mask made by Bakari Coulibaly from Dickodougou, my thought was that he used templates. It is documentated that sculpturers like the Fono, who made Kpelié masks in bronze, made mug-ups of clay or wood on which they formed their wax prototypes. All their masks, like Gobé Koné from Gbon or Tiénlé Gobé from Landiougou, have the same size and proportions. Only the decoration elements differ.
My persumption was, that Bakari worked out a template with the proportions of the face, where eyes, nose and mouth are placed together with the positions of the side elements and repeats these on following masks. Bakari, today is his 50ies and not carving anymore, was strongly influenced by his famous father Drissa Coulibaly, who still lives in Korhogo. But after comparing a second, third and fourth mask made by Bakari, the setup, construction and the body volume of each mask was different and composed in individual proportions. He certainly worked with rulers and a triangle ruler, but his tools like hatchets, knives and blades were traditional.
Most of the Kpelié masks, especially antique ones, are carved by eye. Often the decoration elements are not in angle or the eyes or mouth are slantwise carved. There are also masks where one side of the face is broader than the other side. The technique is up to the carver. Less ambitioned sculpturers of the Senufo were not focused on symmetry, the spiritual power of the final object is more of importance. In many interviews these carvers explain, that the spirits let them do that, which is an easy but also honest answer.
But symmetric masks, like the masks from Bakari Couilbaly, or his father Drissa Coulibaly, or from Songuifolo Silué or Sabariko Koné always stand out. Songuifolo Silué did carve the shown Kpelié (mask on the right) when he was in his early 20ies. Even as a young sculpturer he was driven to create a nearly perfect work. The only element that is not in the center is the mark on the forehead. But the study shows, that all other features are perfectly mirrored and balanced.
It is even more delicate to carve two identical faces, like Bakari Coulibaly did of the doublefaced Kpelié (mask on the left). Meassuring this is mask, every single detail is in line and absolutely symmetric. The precision of a mask can not only be an indicator for an authentic mask reliabel to a carver, it can also be an distinctive attribute to the outstanding character of the carver itself and his artistic sense and awerness. And Senufo carvers can be very ambitioned and driven to create handmade perfection.
---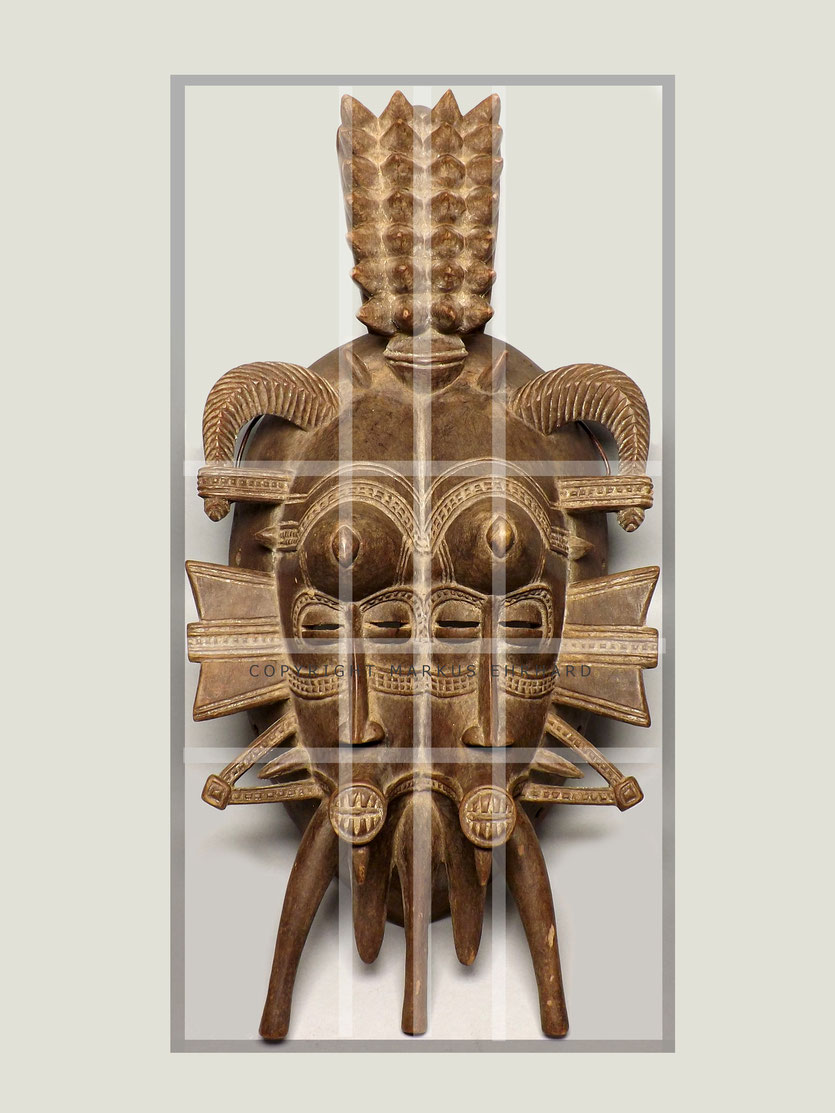 Yêchikpleyégué, doublefaced Kpelié mask, carved by Bakari Coulybari, *ca. 1965, Dickodougou. 
33,5 x 15,0 x 9,5 cm, wood.
Literature:
not published yet
---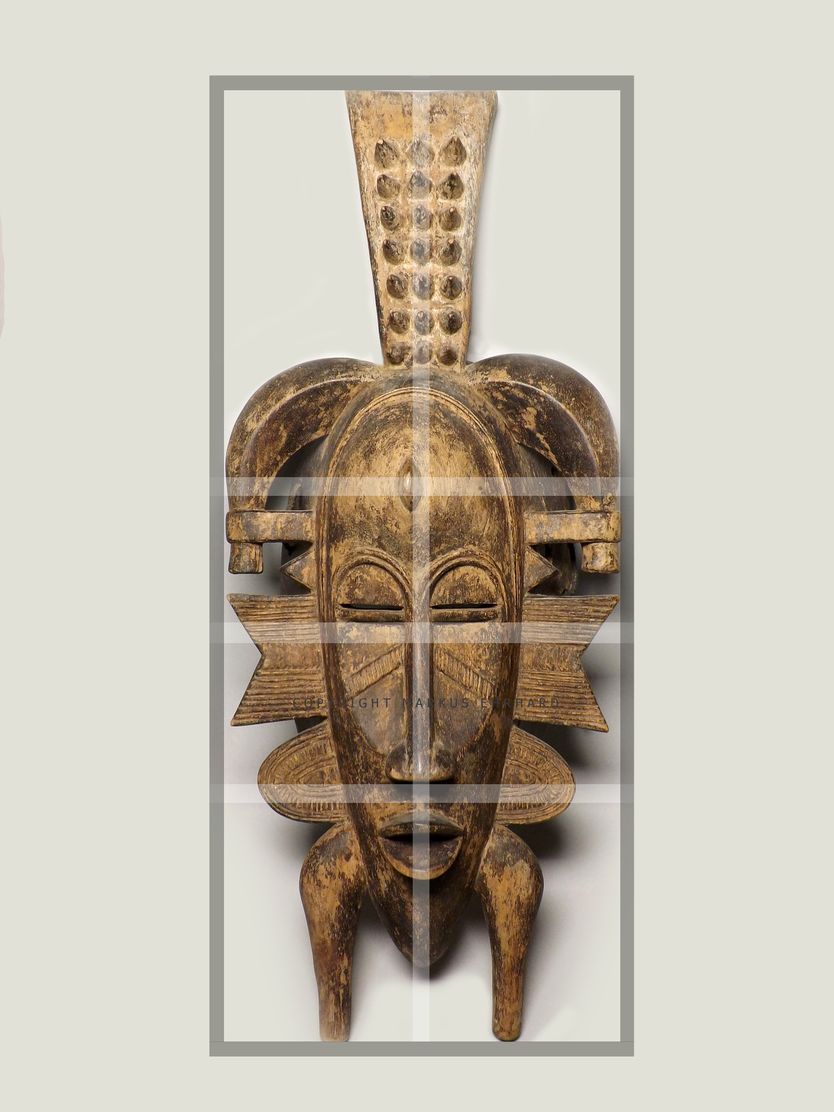 Kpelié mask, carved by Songuifolo Silué, Fono from Sirasso. *1914 +1986.
Time of creation between 1935 - 1939.
40,0 x 16,0 x 10,0 cm, wood. Former Karl-Heinz Krieg collection.
Literature:
- Wenn Brauch Gebrauch beeinflusst, Markus Ehrhard, pages 96 - 101.
- Kunst & Kontext, Ausgabe 07, 2014, page 39.
- Kunst und Religion bei den Gbato-Senufo, Elfenbeinküste, Karl-Heinz Krieg und Wulf Lohse, page 46 - 49.
- Aus Afrika, Ahnen - Geister - Götter, Jürgen Zwernemann und Wulf Lohse, Seite 65 - 66.
- Afrika Begegnung, aus der Sammlung Artur und Heidrun Elmer, page 67.