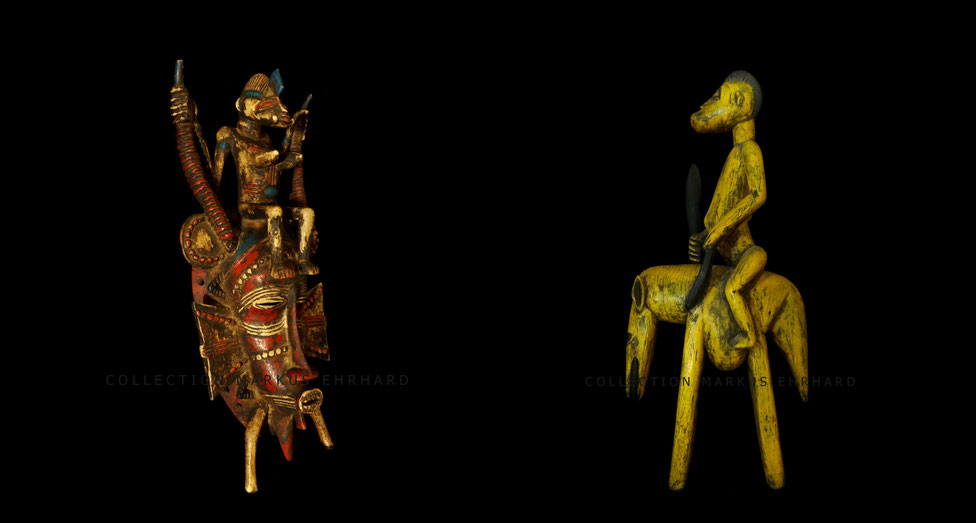 A painted object looks strange, doesn't it?

The object is eyecatchy. But in many cases the colour is weird, the painting sticky and not pretty, also it makes even a nicely carved mask or statue look disturbing.

But at Senufo culture paint is of importance. After an object fulfilled its purpose, the diviner asks the Tugubele spirits, how to go on with the object. Often the spirits say, an object can be sold. Also it is possible, that the spirits want to take off the black stain to remove the power. There are masks and statues that look washed. And here is the tricky part: It is also a treatment to make an object look used. But sometimes the spirits want an object to give it even more strength by using paint to give more or a different power depending on the purpose. Paint is used after WWII, from around 1950. It can be a good sign for a recent authentic piece, when an object is treated with colour (read also the blog article: Not from this world).

In tradition, Senufo objects get covered with the juice of the Yaman root. After that the mask or statue takes a bath in a clay mud that has iron in it. Like the process of indigo dying, the combination of iron and oxygen causes a black shiny surface. This procedure is called black stain treatment. This stain protects an object from insects and humidity on one side, but an object also does receive additional spiritual power. Some objects look like covered with black varnish, sometimes the layer is very thin and reddish toned wood shines through. The black stain is a kind of patina, though it also can be very thick and crusty.

So the treatment with colour is not only because of an aesthetic point of view. It has ritual aspect too, made by the diviners, not by the carver. Quite often you find old objects covered in fresh and bright colors. The Kpelié mask above of Ziehouo Coulibaly is a typical example of an older mask treated with paint. The yellowish Syonfolô from Madinin got covered with black colour first, then an oily yellowish colour was added on top. In case of this Syonfolô the yellow color should give the statue the power for success.
Colored objects are recent objects. As said, paint is used after 1950. But a colored sculpture is still an authentic piece.
Left: Colored Kpelié mask, carved by Ziehouo Coulibaly, Koulé from Korhogo.
37,0x 16,5 x 8,5 cm, wood and paint.
Literature:
- Wenn Neuordnung Ordnung schafft, Markus Ehrhard, pages 170 - 173.
Right: Colored Syonfolô, horserider, from Madinin.
55,0x 11,0 x 24,5 cm, wood and paint.
Literature:
- Wenn Neuordnung Ordnung schafft, Markus Ehrhard, pages 104 - 105, 206 - 207.
---
Copyright content and images by Markus Ehrhard