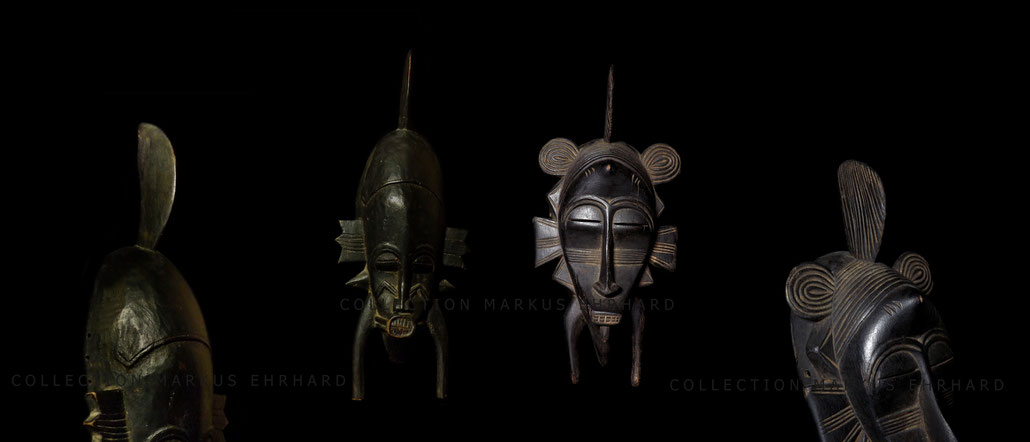 Bolope (or Bolopé), north of Boundiali, next to the Mali border, was a carving centre of the Senufo until mid last century. Many carvers moved then southwards to Nafoun or Ouezomon.
The left very dark Kpelié was collected by a French couple, who lived as colonizers in Bolope from 1920 to 1930. The right mask was carved by Kadohognon Coulibaly, who died 1953 in Bolope.
Both masks vary in their interpretation of shape, proportion and decoration elements. But both masks have the weird looking wing on top in common. There is no explanation or symbolism known or documentated about this feature, but it is noticeable, that this particular style element is quite often used by carves from Bolope.
It can be assumed that this wing is an abstraction of the Kapok fruit symbol, but that would be pure interpretation from our art-historical point of view.
There  is also the style feature of small Kpelié masks on the side of a mask. There are many interpretations about the symbolism, that, for example, the spirit can see in every direction. Asking Zié Soro, a Koulé from Djemtene, he explains, that this feature is "just a sign for the carvers of that region and period."
Left: Kpelié mask, collected by French colonizers who lived in Bolope between 1920 to 1930.
34,0 x 12,0 x 6,0 cm, wood.
Literature:
- Wenn Urform Form bestimmt, Markus Ehrhard, page 96 - 97.
Right: Kpelié mask, carved by Kadohognon Coulibaly, Bolope, between 1920 to 1930.
29,0 x 14,5 x 6,5 cm, wood.
Literature:
- Wenn Brauch Gebrauch beeinflusst, Markus Ehrhard, page 104 - 105.
---
Copyright content and images by Markus Ehrhard